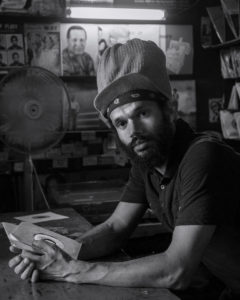 Born in Denmark of Ghanaian / Danish heritage, Martei Korley is an international photographer, storyteller and cultural ambassador. He was drawn to photography from an early age, understanding the power of representation and visual language in the face of a Eurocentric cultural landscape, which didn't reflect his own identity. Driven in part by his own Rastafari identity, Korley developed a keen eye and deep love for photographing the Black experience, framing his images of people of African descent with a deliberate dignity, historic iconography and seeing his subjects for their inner strengths, free of artificial social constructs.
Korley moved to Harlem, NY in 1993, and began working as a recreational therapist in a local AIDS-care residence. Concurrently, his Rastafarianism brought him into close contact with global Pan-African ideas and community, inspiring him to photograph the community around him. While learning the technical and commercial aspects of photography working in fashion, advertising and music; Korley focused his lens on the music side of his Rastafarian beliefs to emerge as one of reggae music's foremost documentarians. He began splitting his time between Jamaica and New York and has photographed one of the rushed time periods for the culture in reggae's history resulting in a vast archive of reggae culture and community. His appreciation for the many African echoes in the island's culture is evidenced in a rich body of work; which includes editorial and or album packaging for nearly every reggae artist working today. Korley's images have been featured on a host of editorial and commercial platforms.
In 2009, Korley co-founded LargeUp.com, a cultural platform creating groundbreaking journalism, cultural events and partnerships to celebrate Caribbean and diasporic communities. He serves as LargeUp's creative director.
Currently Korley has two book / exhibition projects in production:
JAMAICA'91, a wide ranging time capsule of images from the viewpoint of a someone coming of age in Jamaica.
REWIND, a full scale retrospective work featuring the Jamaican recording industry. Images from "Rewind" have been featured in the Contact High 'Visualizing Reggae' exhibition at Sole DXB 2019, Dubai.
Korley's images are in the permanent collection of The International African American Museum, scheduled to open in Charleston, S.C. in 2022
Contact: Info@marteikorley.com